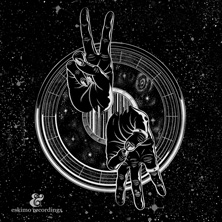 Back around the turn of the millennium two French kids, lured by dazzlingly eclectic sets by the likes of The Glimmers and 2manyDJs, would sneak out of their Lille homes, cross into Belgium and dance all night at the legendary parties that birthed Eskimo Recordings. 20 years later Tepat Huleux and Giac Di Falco, now known as You Man and in-demand DJs and producers in their own right, make their debut on the label with the stunning 4 track 'Altered States' EP.
Those early club experiences obviously made an impact as the pair have followed that open minded approach with their new EP embracing everything from dark disco to muscular EBM, euphoric trance to Konnakol, a percussive vocal effect used in Southern Indian Carnatic music, and even Di Falco's background as a trained psychologist and hypnotherapist. The result a mesmerising experience primed to both open and expand minds on the dancefloor.
You Man has also distinguished themselves with some great videos. Whether it's addictive image montages "Birdcage", "Everybody", clips with technological graphics "There Is A Land", television "Indian Summer" or a short scripted film "When We Fall", directed by Quentin Tavernier, Tepat Huleux (an interactive designer) and Giac Di Falco (a trained psychologist / hypnotherapist) unveil in these videos their pop, television and computer culture, their geeky spirit and their metaphysical reflections in a powerful graphic world.
The duo has developed many elements on stage with their animated shows and their infectious energy. The group has already performed a hundred concerts in Europe (England, Germany, Austria, Belgium) and several great festivals in France (We Love Green, Calvi On The Rocks, Solidays), proving that they are also comfortable in clubs, theatres and festivals.
With releases on labels such as Tronik Youth's NEIN, their stunning live shows and hypnotic visuals created by Huleux, the pair have firmly established themselves on the underground disco scene, their eclectic tastes and esoteric interests combining to create a distinctive sound that is sure to win over even more hearts and minds in 2020 with the release of their 'Altered States' EP.